What is Sorare MLB
Sorare MLB is a fantasy baseball game that allow for fans to live their passion with the best baseball league in the world. On Sorare MLB, you play against other players with digital cards that are officially licensed by the MLB. If you are good enough, you will be able to win prizes (exclusive cards) of great monetary value. Don't worry, you will learn everything you need to win tournaments from SorareFAQ.
Here's all you can do with Sorare MLB:
Collect officially licensed digital trading cards featuring your favorite MLB players.
Use the cards in your collection to make lineups and enter them in different competitions.
Earn points by how well the players in your lineup do in real life.
Your digital trading cards get experience when you use them in a competition.
Compete with other players around the world for rewards.
You can buy and sell your cards at any time.
Sorare MLB cards use Ethereum blockchain technology and are backed by Ubisoft and the MLB league itself. Sorare MLB is fun, challenging, and offers many opportunities to win money. Get ready to learn everything you need to succeed in the game. First, we will learn all the rules of the game, and then we will finish the guide with the best strategies for winning prizes in the tournaments. 
Earn a FREE card when you get five limited cards
What are Sorare MLB cards and how do they work
Sorare MLB cards are the modern version of classic baseball cards.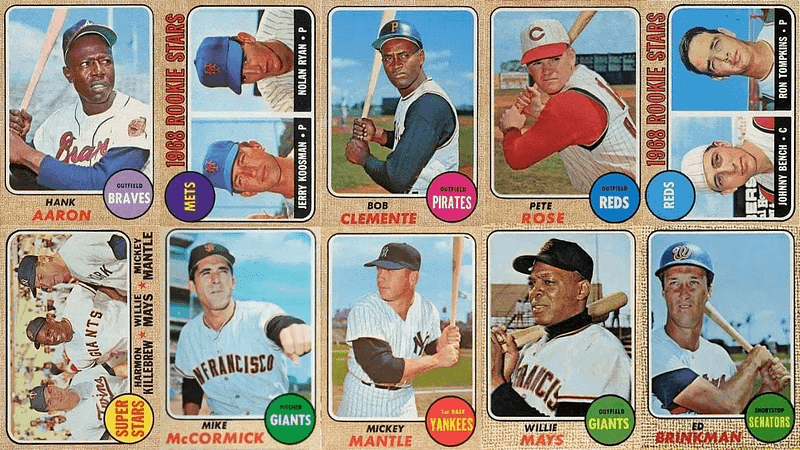 In the game, a Sorare MLB Card is a digital collectible (NFT) that represents a baseball player and is tied to an MLB season. With the help of blockchain technology, basketball fans can collect their favorite players with the benefit of limited availability (there is a limited number of Sorare NBA Cards).
Sorare MLB cards are uniquely valuable and cannot be replaced. In addition, Sorare cards can be freely traded. The cards in Sorare MLB can't be taken away from their owner. The owner has complete control.
You don't need to have any knowledge about crypto to use Sorare. You can top up your Sorare account using a credit card or bank transfer, or you can deposit Ethereum directly from Metamask.
On Sorare MLB, there are five different types of cards, each with a different scarcity value. These values determine which tournaments you can participate in.
Common Cards: There are an unlimited number of this type of card, which are gray.
Limited Cards: There are 5000 cards per player and per season of this type, and they are colored yellow.
Rare Cards: There are 1000 cards per player and per season of this type, and they are colored red.
Super Rare Cards: There are 100 cards per player and per season of this type, and they are blue.
Unique Cards: There is only one card of this type per player and per season, and they are black or purple.
When you sign up to play on Sorare MLB, you will receive thirteen common cards to start your collection. This allows you to start playing immediately and compete in tournaments. Common cards can't be bought or sold. You can buy and sell limited, rare, super rare, and unique cards in the Marketplace, or you can get them as rewards if you finish in the top spots on the Sorare MLB tournaments.
How to start playing Sorare MLB
When you sign up on Sorare MLB, you will be able to choose your first Common Card from a selection of five of the best basketball players in the MLB. After you pick a card, you will get a random set of 12 free common cards to start your collection. The number of common cards will be the same for all new players.
With your first 13 common cards, you will be able to compete in the "Common All Star tournament". To play in the other leagues, you will need limited (or of greater rarity) cards, but first, to be successful in the tournaments, we need to understand the rules of Sorare MLB.
Understanding Sorare MLB rules
In order to win prizes in tournaments, we need to understand the rules of the game and how the SorareMLB scoring system works.
Make your lineup
To play in any of the Sorare MLB tournaments, a seven-player lineup is required. You will need to fill the following positions:
1 Starting Pitcher
1 Relief Pitcher
1 Corner Infielder (can be a first baseman, a third baseman, or a designated hitter)
1 Middle Infielder (can be a second baseman, a shortstop, or a catcher)
1 Outfielder
1 Extra Hitter (can be any position player)
1 Flex (can be any player, from any position)
You are only allowed to use one card per Game Week, and you are not allowed to use the same player in the same lineup twice, even if you have two of their cards. You will also need to make sure that your lineup has at least two MLB teams represented in order for it to be valid.
Hitting or Pitching
In the MLB, there are players who can both pitch and hit. For such players, you will need to decide as to which position you want them to score points in. Players can only get pitching or hitting stats in a given Game Week.
Understanding Sorare MLB scoring system
Actions that take place in a Major League Baseball game during the Game Week have corresponding point values. When your player completes one of those actions, he will earn points for your team.
This is the breakdown of how players score points:
All you need to know about Sorare MLB tournaments
Competing well in the Game Week tournaments is a must if you want to win prizes. Now, we will take a look at everything you need to know about tournaments in Sorare MLB to be successful in the game.
Which tournaments are in Sorare MLB
There are seven core tournaments on Sorare MLB and some additional special tournaments.
In the 'All Star' tournaments, it is easier to win cards to continue building your collection and strengthening your team. There are fewer card rewards in the 'Pro' tournaments, but the cards you can earn are of higher value.
Requirements to participate in Sorare MLB tournaments
These are the requirements to enter Sorare MLB competitions:
Common All Star (casual) is a free-to-play tournament, so only Common cards are allowed.

To play in Limited tournaments, you will need to have seven Limited cards in your team.

To play in Rare tournaments, you will need to use at least four Rare cards, but you can use up to three Limited cards to round out your team.

To play in Super Rare tournaments, you will have to use at least three Super Rare cards, but you can use up to four Rare cards.

To play in Unique tournaments, you will have to use at least two Unique cards, but you can use up to five Super Rare cards.
Sorare MLB Tournament Rewards
At the end of each Game Week, if your team performed well enough in your tournaments, you will be rewarded with new Sorare MLB cards to add to your collection and strengthen your team for the next tournaments.
You can register your teams in the tournament tab and check the rewards for each competition and the number of participants.
After a Game Week, you will receive a notification in your account if you have been awarded rewards. To receive your rewards, simply click on the "claim rewards" button, and you will discover the new cards you have just earned.
When Do the Games on Sorare MLB take place?
There will be a Game Week every 3-4 days. From Monday to Thursday, one game is played, and from Friday to Sunday, the other one is played. Your team must be fully prepared at least 10 minutes before the start of the first MLB game on Mondays and Fridays.
The games will conclude when the last game of each Game Week is over (on Thursdays and Sundays). If a game is postponed to a date outside the Game Week, the stats for that game will not be counted.
What is training on Sorare MLB
Every Game Week, you can get training to earn experience on player cards that are not used in other tournaments. There are no restrictions on which cards you can use in Training, and you can enter as many teams as you are able. There are no rewards for Training besides the experience your cards get to become stronger for the next Game Week's tournaments.
What is card level on Sorare MLB
Every Sorare MLB card has a level, which is based on how many experience points (XP) it has. Each level increases the card's score by 0.5%
Limited cards start at level 0 with no bonus.
Rare cards start at level 20 (+10% bonus)
Super Rare cards start at level 40 (+20% bonus)
Unique cards start at level 80 (+40% bonus)
Cards will also receive a 5% bonus in the current season, so all cards in Sorare MLB 2022/23 have this bonus. The 5% bonus will disappear when the new season starts, but the experience collected will not be affected.
How to buy cards on Sorare MLB
You can buy cards on the Sorare MLB Market in two places: New Card Auctions and Manager Sales.
New Card Auctions
New Card Auctions allow you to buy cards that just came out directly from Sorare MLB, meaning you'll be the first person ever to have that specific card and serial number. Each auction has a deadline, after which the card will be sold to the highest bidder. If you are the highest bidder when the auction expires, you will win the card, and it will be added to your collection. This is the only way to acquire newly minted cards.
To participate in auctions for newly minted cards, go to the Market section and select New Card Auctions.
There is a time limit at the bottom of the page which indicates when the bidding ends. You can search for specific players using the filters on the left to see when their next bids are ending. You must click on the bid button to place your bid.
In order to bid, you must have funds in your Sorare account. The bid will increase by one minute if someone outbids you at the last second, so that you have time to increase your bid if necessary.
Manager Sales
Manager Sales provides Sorare MLB managers with a direct peer-to-peer secondary marketplace, allowing them to list cards from their collection. The only way to add a card to your collection instantly, without waiting for an auction to conclude, is to buy it directly from another player.
Be cautious, as there will be many managers who will put very high prices on certain players. If you want to buy a specific player, the best thing to do is to go to the player section on the left and look for the player you want. Thereafter, look for the card with the lowest selling price.
How to sell cards on Sorare MLB
To sell your card, click on Sell my card. Next, you need to determine the selling price for your card. If the card is not sold within two days, the sale will be cancelled. You can put that card back on sale for free. The sale can be cancelled before it ends.
It is always best to get a market estimation before you try to sell a card. To start, search for the card you want to sell on the transfer market. Research the current market value of the card you wish to sell. How many cards are for sale? What is the lowest price available for the card? With this information, you should be able to determine a reasonable selling price. The fewer cards are available for sale, the higher the chance that the card's value will increase.
Keep the serial number of your player's card in mind. Series 1 and the player's jersey number series have a higher value than the rest of the cards in the series.
Can you play Sorare MLB without spending money?
You can play Sorare MLB without spending money in the Common All Star tournament. In this league, you only need common cards, which are free. You can win rare cards that have monetary value. The competition will be fierce, so don't miss the strategies for winning on Sorare at the end of the guide.
Learn How To Deposit and Withdraw from Sorare
How to win prizes and make money with Sorare MLB
Before buying cards, learn the game
If you are familiar with the game of Sorare Football or Sorare NBA, you already know how to play, but if you are new to the game, it is recommended that you take the first few weeks to learn the ropes. Start by competing in the Common All Star tournament, making your lineups, and putting players to train. Then, scour the market to see how it works. Once you're comfortable with how Sorare MLB works, you can start thinking about building your own team, buying cards and playing in higher level tournaments.
Start playing All Star tournaments
The fastest way to get rewards in the form of cards is to focus on the All Star tournaments. Once you have a strong, well-rounded team, you can compete in the Pro tournaments for the best prizes on Sorare MLB.
Check who your card players opponents are every Game Week
When starting to play on Sorare, many users assume that they should always pick the players with the highest average score. An important thing that many users don't think about is who their players will play against in a given week of the league. Making smart choices can increase your chances of winning more cards. When deciding your lineup, you should take into consideration both your players opponents and any injuries they may have.
You have to look at who is the team that each player on your team is playing against and not just pick the players with the best average score. Is it a team that allows many points? Or is it a team that rarely lets its opponents score? Are there any key players from the opposing team injured? Before deciding on your lineup, you should ask yourself all these questions. 
 If you want to win, study the stats
Sorare MLB is a game of statistics. It is therefore essential that you spend time looking at player and team statistics. These are some of the most important statistics you need to be checking when playing Sorare MLB.
Batting Average: This is the percentage of times a hitter gets a base hit. This number is expressed in a form such as .250 or .300. The higher a player's batting average, the better. You want players on your Sorare team that get as many base hits as possible.  In Major League Baseball, a batting average of .300 is considered good, and when a player approaches .333, they are considered to be excellent. When a player starts to approach .400, it is almost unheard of.
Home Runs: Everyone loves the home run ball.  It is a game changer, providing great excitement. Over the years, the frequency of home runs in the MLB has increased. Between 40 and 60 homes can be considered an exceptional season, with an average number taking place between 15-20.
Earned Run Average (ERA): The earned run average, or ERA, is a statistic used in baseball to evaluate pitchers.  It shows how many runs a pitcher would give up over a 9-inning game.  The number would be displayed as 3.36 or 3.50. The best pitchers in the MLB have ERA's under 3.00. The average pitcher will have an ERA between 3.5 and 5.5, and a poor pitcher will have an ERA over 5.5.
On Base Percentage (OBP): On Base Percentage represents the percentage of time a player reaches base.  This is the number of hits, hit by pitches, or walks divided by the total number of at-bats (hits, walks, outs, sacrifices, hit by pitch). The number is frequently represented in a format such as .478. The higher the OBP, the better the advantage for the team.  You should be looking for players who are both able to get on base and also hit for some power.
Total Bases: This is a good stat because it shows how many bases a hitter gets per season because of their hits.  For example, a single would count as 1, a double ='s 2, triple ='s 3, home run ='s 4. These numbers are then added up to obtain the total number of bases over a season.  The higher the total, the better.
For more statistics, you can visit Baseball Reference.
Consistency And Patience Are Key To Success
Be consistent and careful not to rush into things. It is not likely that you will get back your investment within a few weeks. You need to make good decisions and be patient, and the results and profits will come.
Time to play Sorare MLB
Congratulations on reaching the end of the Sorare MLB guide. You now have all the knowledge to understand the game and win prizes. All that remains is to register if you haven't already done so. Good luck!