What is Sorare
Sorare is a NFT fantasy game for football, baseball, and basketball. These are some of the things you can do on Sorare:
You can collect officially licensed digital cards featuring the world's best football, baseball, and basketball players, including 247+ football clubs in 42+ football leagues, the MLB, and the NBA.
Build football, baseball, or basketball lineups from the cards in your collection.
Register your lineups into a variety of football, baseball, and basketball competitions, each lasting 3-4 days.
The way your players perform in real life determines how many points you get.
Compete with players from all over the world for very valuable rewards.
Trade, buy, and sell your cards with complete freedom.
Earn a FREE card when you get five limited cards
What is a NFT?
Non-fungible tokens (NFTs) are unique, cryptographic tokens that exist on a blockchain and cannot be replicated. NFTs can represent items from the real world, like artwork or real estate, or digital items, like digital cards. 
NFTs have proven scarcity (a fixed and limited supply), provenance, true ownership, and complete freedom of movement, thanks to blockchain technology. Your Sorare cards are truly yours. With an NFT from Sorare, you can use it in Sorare competitions, keep it as a collectible, transfer it to another platform, sell it, trade it, play it in another game, create your own game where you can use it, etc.
In traditional digital games, you collect and use in-game items but you don't own them. With NFTs, you actually own your digital items, similar to how you own things in the physical world. Thanks to blockchain technology, your Sorare cards cannot be copied or taken away from you.
Is Sorare Safe?
Sorare is a private company with dozens of reliable investors, including companies such as Accel, D1 Capital, and Headline. International athletes such as Gerard Pique, Lionel Messi, Kylian Mbappe, and Serena Williams are also investors.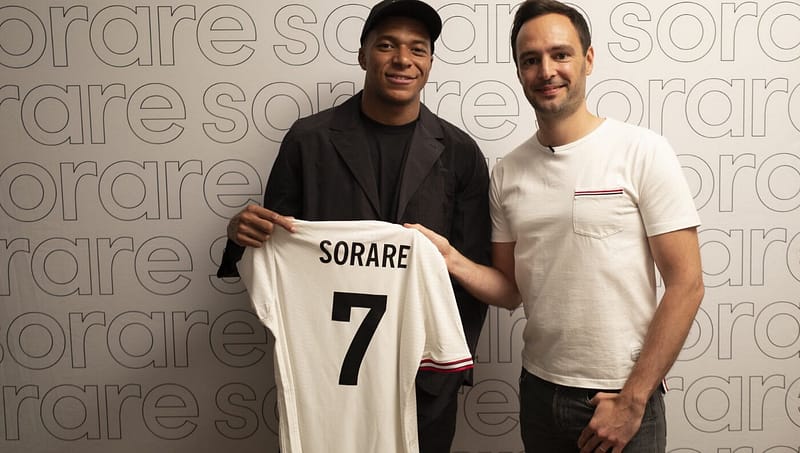 As a digital game, Sorare is absolutely safe. NFT technology ensures that any cards that you purchase or win cannot be taken away from you without initiating a transfer on the blockchain. This system helps prevent theft and provides your account with a higher level of security. If your account is compromised, Sorare will automatically lock your account and issue you a personal key to reopen it. To ensure that only you can access your account information, Sorare has introduced the two-factor authentication.
Can I buy a Sorare token?
No. There is no Sorare token in the market. There is no need for a Sorare token as the game uses either Ethereum or real currencies like USD, EUR or GBP to buy and sell cards.
Can I play Sorare without spending money?
You can play Sorare Football, NBA and MLB without spending money in the Common tournaments. In these tournaments, you only need common cards, which are free. You can win rare cards that have monetary value. The competition will be fierce, so don't miss our guides for winning on Sorare Football, NBA and MLB.
Can I earn money with Sorare?
Sorare can be a good place to earn money. Sorare has a large player base all over the world, and the rewards you can win in the tournaments have a high monetary value. But you must acknowledge that:
If you want to win good prizes on Sorare, you will need to invest first in cards. It is very difficult to win quality prizes without purchasing cards on Sorare.
It is possible to lose money if you buy player's cards that lose value with time because of injuries or because the player retires or loses value in the real life.
How to deposit on Sorare?
To deposit on Sorare, you have two options. Let's start with the advanced one; with a ETH Wallet. If you don't know about crypto, I suggest you to not use this method.
With an ETH wallet
With this method, you must connect your Ethereum Wallet to Sorare (
Metamask
is the most used wallet in crypto). Then, you must choose the amount of ETH you want to deposit and confirm the deposit on your Ethereum Wallet. You will have to pay some Ethereum fees to do the transaction.
As said, if you don't know about crypto do not worry at all, you can use your card or make a bank transfer to deposit on Sorare. For this method, you need to use either Ramp or Moonpay. We recommend Ramp, but you are welcome to try both options.
With a card or bank transfer
With this method, you decide the amount of dollars/euros/pounds (or any other currency) you want to deposit on Sorare, and the system will make the conversion for you and will give you ETH, the token used on Sorare to buy and sell cards. When using this method, you will be charged a fee.
Once the deposit is completed, you will have your ETH on your account, and you will be able to use it to buy Sorare cards.
How to Withdraw from Sorare?
In order to withdraw money from Sorare you will need to send the Ethereum from your Sorare Wallet to a wallet. If you intend to keep your Ethereum, we recommend transferring your Ethereum to a hardware wallet, as is the safest method to save crypto. The best and safest hardware wallets of the markets are Ledger, Trezor and Safepal.
If you wish to withdraw your Ethereum from your Sorare Wallet and receive a different currency, such as dollars, euros, or another currency, then you will need to take an additional step. You need to have an account in an exchange to sell your Ethereum and receive your preferred currency. We recommend using Binance, as it is the safest and most reliable exchange available.
Once you have your Binance account, you must go to the Wallet ➯ Fiat and Spot.
After this, you must choose the coin "ETH" and click on Deposit.
Thereafter, you need to choose the Network "ETH Ethereum (ERC 20)", and below that you will see an address. This is the address you must use on Sorare to receive the money. 
The last step is to put that address on Sorare when you decide to withdraw your Ethereum.
In order to sell your Ethereum and receive dollars or euro, the easiest way is to go to Trade ➯ Binance convert. There, you can sell your ETH for dollars (USD) or Euros (EUR). If you want "real money" do not sell Ethereum for a crypto stable coin like USDT or BUSD, it has to be USD, the real dollar.
After this, you will have your EUR or USD in your Binance account. The last step is to click on withdraw and later click Withdraw Fiat.
And from here just withdraw your money picking one of the available options that Binance offers you.
Earn a FREE card when you get five limited cards
How to declare tax gains from Sorare NFTs
You may be wondering how to declare any tax gains you've made from playing Sorare. While the specifics may vary depending on your country's tax laws, here are some general tips to help you properly declare your Sorare gains on your tax return.
First, it's important to understand that any virtual assets you acquire through Sorare, such as player cards, are considered taxable property. This means that if you sell your player cards for a profit, you will need to report the gain on your tax return.
To determine your gain, you will need to calculate the difference between the amount you sold the player cards for and the amount you paid for them. For example, if you bought a player card for $100 and sold it for $150, your gain would be $50.
Once you've calculated your gain, you will have to report it on your tax return. This will typically be done on a schedule specifically for reporting capital gains and losses, such as Schedule D in the United States. Be sure to consult a tax professional or the relevant tax authority in your country to determine the exact process for reporting your Sorare gains.
In addition to reporting your gains, you may also be required to pay capital gains tax on any profit you made from selling your player cards. The tax rate you'll pay will depend on your country's tax laws and your income bracket. Again, it's important to consult a tax professional or the relevant tax authority to determine the exact amount of tax you'll owe on your Sorare gains.
Overall, declaring your tax gains from playing Sorare is relatively straightforward, but it's critical to do so properly to avoid any potential penalties or issues with the tax authorities. By keeping careful records of your Sorare transactions and consulting a tax professional when necessary, you can ensure that you're accurately reporting your gains and paying the appropriate amount of tax.
Cointracking is widely regarded as the best software for declaring crypto gains because it offers a comprehensive and user-friendly solution for tracking and reporting cryptocurrency transactions. With Cointracking you can easily import your transaction data from a variety of exchanges and wallets, so Cointracking can automatically calculate all your capital gains and losses from all transactions.
Do I need to create different Sorare accounts for each sport?
No, you only need one Sorare account to play all the sports on Sorare.
Time to play Sorare NBA
Congratulations on reaching the end of the Sorare FAQ guide. You now have all the knowledge to understand the game and win prizes. All that remains is to register if you haven't already done so. Good luck!